Salomé Cabaret offers a liberal and modern interpretation of burlesque and vaudeville. The cast throws convention aside along with their bras creating shows that are original, innovative and new. Performances are sometimes risqué and often suggestive, but always retain the modest sensibility of the era in which the art form of burlesque originated. True to the history of vaudeville, the sultry stripteases are balanced by live vocal performances and laugh-out-loud comedic hijinks, which is almost as much a reason to see a show as the girls themselves. Salomé Cabaret's unique brand of humor straddles the line between smart wit and outright Baptist blaspheme and is definitely not for the weak of heart or easily offended. This campy, vampy show is sure to leave you feeling teased in more ways than one!

Salomé Cabaret... It's burlesque you'll lose your head over!

---

Photo booth pictures are here!
Powered by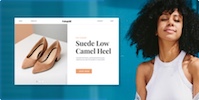 Create your own unique website with customizable templates.