What is burlesque?

Burlesque originated in the nineteenth century as a form of satirical theatrical entertainment, often taking aim at the upper class and/or parodying their operas, dramas and ballets. By the 1920's "burlesque" had evolved into a raucous, bawdy, variety stage show with jocular song, slapstick humor, comic skits, and scantily clad female dancers. A social crackdown on the art-form began in the 1930's and almost caused its extinction. Modern women are now picking up where the vaudevillian legends left off, mastering an adult entertainment that uses anticipation as a weapon of tease and proves that delayed gratification is always the most satisfying.

This is not your grandfather's burlesque show!

The cast of Salomé Cabaret tackles this traditional art-form with a liberal and modern interpretation. These girls throw convention aside (along with their bras) creating shows that are original, innovative and new. Performances are sometimes risqué and often suggestive, but always retain the modest sensibility of the era in which the art-form originated. True to the history of vaudeville, the sultry stripteases are balanced by live vocal performances and laugh-out-loud comedic hijinks. The troupe's unique brand of humor straddles the line between smart wit and outright Baptist-blaspheme, and is definitely not for the weak of heart or easily offended! This campy, vampy show is sure to leave you feeling teased in more ways that one!

These dames have got more than good looks going for them!

The multi-talented, multi-sized cast provides an entertainment and appearance for every taste. Each comedic, sexy, naughty and bizarre girl brings a different set of talents to the table, combining to form one giant tassel twirlin' and fringe shakin' variety act. This arsenal of aptitudes ensures shows are fresh and makes the troupe's repertoire versatile and abundant. Clients can easily customize a show to their liking, choosing from a diverse array of unusual exhibitions. The Salomé Cabaret catalog of tease runs the gamut, ranging from punk rock go-go dancing to full-on strip stage combat.
Powered by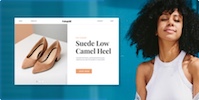 Create your own unique website with customizable templates.