Salomé Cabaret Burlesque Academy

Salomé Cabaret co-founders Kisa von Teasa and Siren Santina have been transforming lives through striptease instruction since 2009. Originally focusing on one-off workshops and guest instruction during out of town appearances, the pair eventually identified the need for a local, formalized program of study. Those interested in learning "the art of the tease" now have a plethora of options available through the Salomé Cabaret Burlesque Academy. Offerings include two different semester-long courses of study (beginner and intermediate levels), intensive subject-specific workshops, one-on-one private lessons, act development coaching sessions, and special event classes led by guest presenters from across the country.

Powered by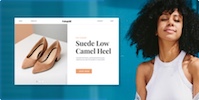 Create your own unique website with customizable templates.